Japan signed the 1980 Hague Convention on the Civil Aspects of International Child Abduction.
The Convention in force from 1 April 2014.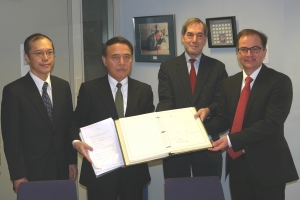 On January 24, 2014 , Japan has become the 91st Contracting State of the Hague Convention of 25 October 1980 on the Civil Aspects of International Child Abduction . In fact, the Japanese Ambassador in Netherlands, SE Masaru Tsuji, has deposited the instrument of ratification of the Convention, which was approved by the Japanese Parliament ON June 2013.
The accession of Japan is an important historical step in the field of international parental child abduction, as the Country is considered a black hole for those parents who are seeking for the return of their children or the restoration of the right of access. Now, it will be more easy to localize, help resolvs conflicts between parents and obtain judicial decisions, as required by Hague Convention.
The Convention will enter into force on April 1, 2014, but it will not have retroactive effects, therefore, those cases of international child abduction established before the date of entry into force of the Convention, can not be resolved according to the Convention and Japanese laws will apply.
Please, see also:
International Parental Child Abduction in Italy
Legal assistance in international child abduction cases in Italy
International parental child abduction from United States to Italy
Italian lawyers for U.S. citizens in Italy
Italian lawyers for Canadian citizens in Italy
Italian lawyers for Australians in Italy
For more information, please contact Italian Lawyers in Rome
The use of this content is permitted only by indicating source (link) and author